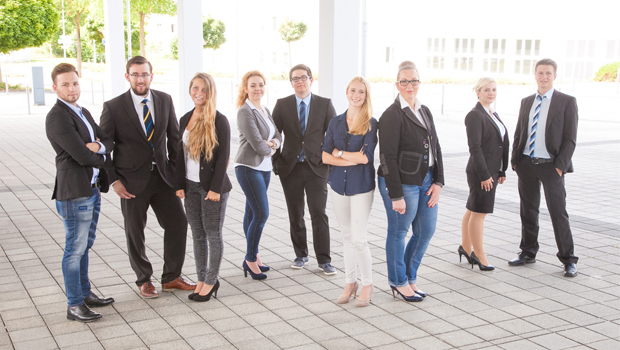 Wirtschaftsingenieurwesen - Logistik und Produktionsmanagement
Die zunehmende Globalisierung und der internationale Wettbewerb erfordern in allen Bereichen neue Strategien zur Steigerung der Wettbewerbsfähigkeit. Hier sind Mitarbeiter in Unternehmen gefragt, die sich mit fachlicher und persönlicher Kompetenz dieser Herausforderung stellen.
Sie interessieren sich für logistische und produktionstechnische Aufgaben mit internationalem Bezug? Sie wollen im Management- und Führungsbereich innovative Lösungen für ihr Unternehmen erarbeiten? Der entscheidende Schritt für ihre Karriere:

Das Studium
Das gemeinsame Master of Science-Programm der Fachbereiche Angewandte Ingenieurwissenschaften (AIng), Betriebswirtschaft (BW) und Angewandte Logistik- und Polymerwissenschaften (ALP) richtet sich als konsekutives Studium an besonders qualifizierte, leistungsorientierte Bachelorabsolventen der Studiengänge Technische Betriebswirtschaft, Technische Logistik, Logistics Diagnostic and Design und Wirtschaftsingenieurwesen (oder vergleichbar).
Das Studium baut auf den vorhandenen Grundlagenkenntnissen und die in den genannten Bachelorstudiengängen entwickelten interdisziplinären Kompetenzprofile auf und bietet mit einem ausgeprägten Praxisbezug sowie wahlweise die Möglichkeit der Vertiefung in den Bereichen Logistik oder Produktionsmanagement.
Die Strukturierung des 3-semestrigen Studiengangs führt dazu, dass die Studierenden die Kompetenzen und Ressourcen von Generalisten an den Schnittstellen von Ingenieurwesen und Wirtschaft fach- und studienortübergreifend nutzen. Für Studierende in Regelstudienzeit ist der Abschluss von Bachelor- und Masterstudium in insgesamt zehn Semestern möglich. Prinzipiell kann das Studium sowohl im Sommer- als auch im Wintersemester begonnen werden.
Die Absolventinnen und Absolventen des Masterstudiengangs "Wirtschaftsingenieurwesen - Logistik und Produktionsmanagement" erwerben fundierte generalistische Managementkompetenzen und verfügen über spezialisierte und vertiefte Kenntnisse in den Schnittstellenbereichen von Logistik bzw. Produktionsmanagement und Wirtschaft, die von großer Bedeutung für Ihren Berufsalltag sind. Ausgebildet werden Managerinnen und Manager mit breitem Fachwissen und fundierten Führungskompetenzen.
Logistik: Logistik ist eine der Schlüsselfunktionen aktueller Wertschöpfungsketten. Hervorragend ausgebildete Fach- und Führungskräfte fehlen in allen Bereichen der Logistik und insbesondere über die, in den Unternehmen vorhandenen Verantwortungsebenen hinweg. Dieses Master-Programm fokussiert dabei den Bedarf in den höheren und höchsten Verantwortungsebenen sowohl in produzierenden Unternehmen als auch in Unternehmen des Handels, der Dienstleistung, bei Anbietern logistischer Anlagen und Geräte sowie bei Consultants.
Produktionsmanagement: Modernes Produktionsmanagement in einer globalisierten Welt erfordert die Fähigkeit, komplexe Produktionsprozesse ganzheitlich zu erfassen, zu analysieren und unter Aspekten wie Wirtschaftlichkeit, Qualität und Zeit zu optimieren. Im Schwerpunkt Produktionsmanagement werden daher Fachgebiete wie Qualitätsmanagement sowie Produktionsorganisation und Methoden wie z.B. Projektmanagement, Lean Production und Wertstromdesign sowie aktuelle Technologietrends und Digitalisierung vertiefend bearbeitet.