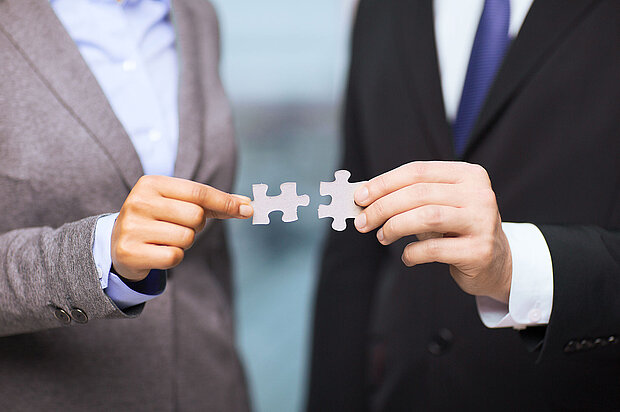 We at the Department for Business and Transfer see our duties as three-fold: "advise - liaise - support" at the interface between the university and the local economy. We also carry out these duties in an external capacity, with businesses, associations, networks, etc., as well as an internal capacity, with professors, teachers, and students.
Furthermore, we are also actively involved with various externally funded projects that, for example, contribute to the region's development or to making the university more accessible. We also organize networking events for companies, students and universities, as well as events for knowledge and technology transfer.
The FiKoM Career Networking Fair is an annual event hosted by the Hochschule Kaiserslautern. It allows companies to introduce themselves to the students and graduates of the Hochschule Kaiserslautern and attract potential skilled employees for the future.
Students at the university can find out about internships, employment prospects, and possibilities for the final thesis, and can use the event as an opportunity to introduce themselves to potential employers.
Contact:
"WissensBar" is a series of events for the exchange of ideas, knowledge and technologies that offers a look behind the doors of Hochschule Kaiserslautern.
Occasionally, the Department for Business and Transfer organizes events and seminars related to transfer, and sends speakers to related events throughout the region. The topics range from ensuring a flow of skilled workers, making the university more accessible, opportunities for cooperation with the university, and much more.
Upcoming events are listed on the department's homepage and on the university's website. If you would like to stay up to date on the upcoming events, you can register for the Department for Business and Transfer's newsletter.
MobiPro.GR hat zum Ziel, die grenzübergreifende berufliche Mobilität von Studierenden in der Großregion bereits im Studium zu fördern. Die Projektpartner unterstützen Studierende mit Infrastrukturen und Netzwerken, welche die Umsetzung grenzüberschreitender Praktika, Praxisphasen, (binationaler) Studienprojekte und Abschlussarbeiten in Kooperation mit Unternehmen in Luxemburg, Lothringen, Saarland, Rheinland-Pfalz und Wallonien ermöglichen.
Ebenso werden Unternehmensbedarfe (F&E) im Bereich der Großregion mit Kompetenzen von Bildungseinrichtungen und Studierenden zusammengeführt. Hier profitiert das Projekt von an der HSKL im Referat Wirtschaft und Transfer vorhandenen Kompetenzen.
Begleitet wird dies u.a. durch eine grenzübergreifende online-Praktikumsbörse, grenzübergreifende Projektausschüsse und Stipendien.
An der HSKL werden zudem extracurriculare, der Kompetenzentwicklung dienende Seminare im Bereich interkulturelle Wirtschaftskommunikation entwickelt. Dies erfolgt über die Ausarbeitung zielgruppen- und bedarfsgerecht kombinierbarer modularer Formate, die nicht an eine Sprache oder Institution gebunden sind.
Das Projekt "MobiPro.GR – Mobilität durch grenzüberschreitende Projekte in der Großregion" wird gefördert im Rahmen des INTERREG V A Großregion-Programms. Laufzeit 10/2016-09/2019.
Projektpartner: CNAM (federführender Begünstigter), Hochschule Kaiserslautern, ISEETECH, htw Saar. Strategische Partner: IHK Saarland, IMG/GR-EEN, VAUS, Université de Liège.
Homepage: MobiProGR
Facebook: MobiProGR
Kontakt:
Kathrin Geldermans-Jörg
Samuel Hoefman

The Offene Digitalisierungallianz Pfalz is a joint project of Hochschule Kaiserslautern, the Technische Universität Kaiserslautern and the direct partner Fraunhofer Institute for Industrial Mathematics.
It focuses on the transfer of ideas, knowledge and technology with society and industry and is based on a joint cooperation strategy of the two universities. The project is funded by the Federal Ministry of Education and Research as part of the federal-state initiative "Innovative University" with a total of almost 15 million euros over a period of five years.
Contact: