Electronic group drive on printed circuit board basis as a synergetic system (SYNERGIE)
Modern mechatronic drive systems consist of a combination of subsystems through which the energy consumption can be adjusted precisely. Besides the electrical machine as the actual electromechanical
energy converter, electronic and power electronic components are also involved directly or indirectly in the energy flow. This modern definition considers cross-domain correlations between electrical, magnetic, mechanical and information technology domains. Based on this, a modular scalable drive system is designed,
whose central component is a printed circuit board. The system components, like (power) electronic elements and the electromagnetically active windings, are placed on it.
The aim is to design the system's interface as flexible as possible while reducing the design volume and the use of resources. This is only possible by the specific use of synergies between the core components
power electronics and electric machine. This can only be achieved by the targeted exploitation of synergy effects between the core components power electronics and electrical machine. Thus, the consistently coordinated conception and adaptation of the subsystems is a central step of the design process.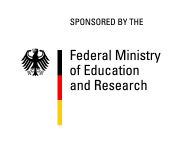 Contact persons
Details
Funding
Federal Ministry of Education and Research BMBF
Duration
01.10.2018 - 30.09.2022